Tablet & Laptop Buying Guide
- Information Portal -
The concept was to create an online buying guide for electronics on the client's website. Starting from cartoonish figures I developed an entire layout based on them. The goal was to establish a funny and entertaining portal that provides information on tablets and laptops, operating systems, other details and a technical dictionary. I limited the colour palette to red and blue and kept the overall look and feel clean and white. I also included lots of little decorative elements to underline the lighthearted, playful and cartoonish appearance of the pages.
Inspirational Collections
- Buying Guide for Home -
The concept revolved around the idea of an online editorial for interior design. The bespoke page consisted of a number of different moods that could be recreated for furniture products at home, based on different brands, seasons of the year and the products in stock. Every style had a specific title that expressed a certain look and feel.
I created a design template that could be used for every style, with slight variations that would depend on the featured content. Then, over a longer period of time I provided creative direction for photography and designed the specific styles using imagery from the photo shoots and editorial content from copywriters.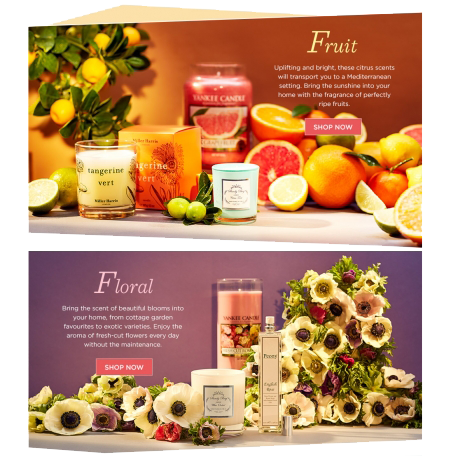 Home Fragrance Boutique
This one pager promoted various scent candles and related products for home. The goal was to utilise vibrant colours and large imagery to evoke associations with certain sensory stimuli. We wanted the viewers to 'taste' and 'feel' the scents. That's why we came up with a concept of 4 styles: fruit, floral, fresh and spicery. Later, we also added an extra section for the festive season. I provided creative direction for photography and using the in-house made photos I designed the page.
Chalet Alexia
I designed and developed a website for the Swiss winter resort/villa Chalet Alexia. Using big imagery I aimed at making the website look slick, modern and clean. The images provided from the client were used as fullscreen backgrounds for various pages. The overall objective was to let the viewers experience the place and the interior of the villa. Based on the existing logo I developed a visual identity for the site and expressed it in small details such as hover effects in the navigation or the footer.